Search Results
On the search results page, users can access: Physical and Chemical Properties; MSDS Information for downstream products; Preparation and Application; Supplier Information; Purity Percentage; Lead time; Price; Package type, etc.
By clicking 'Properties' below the molecule structure, users can get more information about the compound, as follows:
Users also can select a specific country to find local suppliers.
Click 'Request For Quotation' and send an inquiry to the supplier, by which users can ask for more information about the product and any issues you may have.
MOLBASE ranks and certifies suppliers in order to ensure the accuracy of information. We only recommend the most credible and qualified suppliers to our users.
MOLBASE also recommends lists of products in which you might be interested in. These compounds are closely related to your own required compound and selected by MOLBASE's intelligent filtering process. This process is continually updated in order to assist your stringent business and scientific requirements.
Search Method
MOLBASE is a professional chemical compounds search engine, providing commercial and R&D information for both scientific research and bulk quantity buyers. MOLBASE's database manages molecules via text, formula, product name and chemical structure.
MOLBASE is a free service that allows buyers and users to search and make inquiries for chemicals through their molecular name, CAS number, structure, substructure and similarities to other chemicals. MOLBASE is dedicated to providing a reliable and accurate database of molecular information and structures to serve the global chemical, pharmaceutical, custom synthesis, outsourcing, specialty chemicals and biomedical R&D industries around the world.
1.Text search

Text search examples: "77-92-9"
MOLBASE search also supports using of wildcard '*' and uncompleted product name.
For example:
Type "Moxifloxacin*", "Moxifloxacin" in the search bar, and the results are as follows:
MOXIFLOXACINHYDROCHLORIDE
MOXIFLOXACINACYL SULFATE
MOXIFLOXACINHYDROCHLORIDE-13CD3
2.Structure Search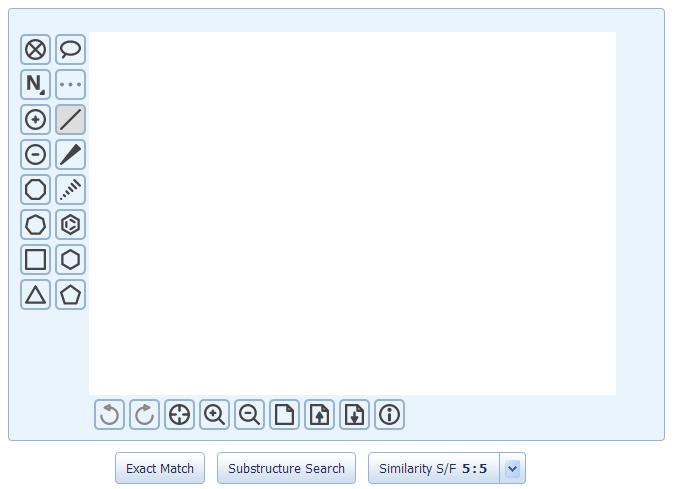 Draw a molecular structure in the edit box and click one of the three match modes below.
MOLBASE supports three different structure search modes.
(1)Exact Match
Results will only show the exact chemical compound you have drawn, with no substituents at any position. Isotope variants and stereoisomers are also included in the results. MOLBASE search also caters for chiral compounds. You can select either the right-handed or left-handed compound in the search results.

(2)Substructure Search
Find all the compounds containing the structure that is the scaffold or partial structure you have drawn.
Note: Searching for common substructures may return too many results (i.e. hundreds of thousands). In that case, you should draw your structure in detail so as to obtain a more accurate result.
(3) Similarity search
By using the molecular structure similarity search, the target molecule will display a higher proportion of shared structural and/or functional characteristics.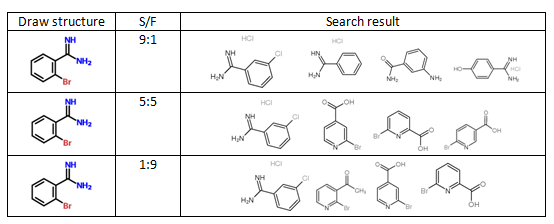 3. Functional group search
Click 'Functional Group Search' and select one or more functional groups to search for chemicals. Molecules for your specific requirements will be shown here.