According to a list of "authorized masks" published by the US Food and Drug Administration (FDA) website, as of April 11, masks produced by 46 factories in China have received emergency use authorization (EUA). This includes both wholly foreign-owned enterprises such as 3M China, and more of them are local Chinese manufacturers such as Ogilvy Medical, BYD, Zhongding Testing, Yongtai Sanlian, Jinal Medical and so on.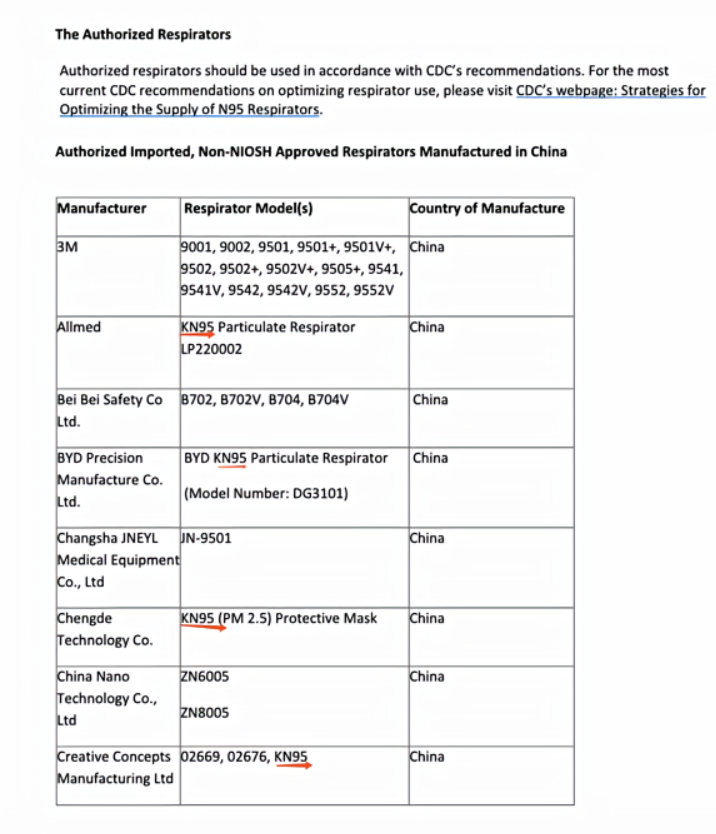 According to the documents, 26 masks were manufactured using the Chinese KN95 standard among these enterprises authorized for emergency use.
Without FDA approval, masks and most medical devices cannot be sold in the U.S. market according to U.S. law, .
In order to alleviate the shortage of medical protection equipment across the country, the FDA urgently approved non-N95 masks certified by the European Union and 5 countries (Australia, Brazil, Japan, South Korea, Mexico), but KN95 masks did not receive emergency Authorization post by previous reports on March 28.
"A surge in cases has resulted in a shortage of masks, but the United States rejects China's KN95 masks," US news site BuzzFeed reported on March 29. KN95 masks are a Chinese replacement for N95 masks, but the US Food and Drug Administration (FDA) refused to allow them United States. The article questioned the "political reasons" behind the FDA's decision.
The US Centers for Disease Control (CDC) has stated that the effectiveness of KN95 masks is the same as that of N95, and it is one of many "suitable alternatives" to N95 masks that are "in short supply." According to 3M, the world's largest mask manufacturer, KN95 is "equivalent" to N95 masks, and "it can be expected to function very similarly."
The current domestic epidemic situation in the United States is not optimistic. According to real-time epidemic data released by Johns Hopkins University in the United States, as of 8:11 p.m. Eastern Time on the 13th, 557590 cases have been diagnosed in the United States, including 22109 deaths.
Source from ifeng.